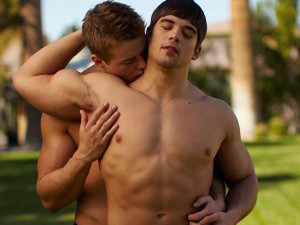 Production year: 2011
Country: USA
Genre: Oral / Anal Sex, Muscle, Freshmen, Rimming, Tattoo
Length: 00:20:53
Description: It's the match-up you've been waiting for – the mountain of muscle known as Aiden and the golden Adonis known as Connor! It was inevitable that I get these two titans together. And it shook the heavens! One of the great things about Aiden is he gets so excited about getting someone naked.
He loves to touch and feel everything he can get his hands (and lips) on. For Connor, a hardcore hedonist, that makes Aiden a perfect match. Even as Aiden is commenting on how big Connor's dick is, Connor sucks Aiden's enormous cock. "This is fucking huge!" Connor says. He smiles and goes all the way down on it. Aiden opens his mouth to take as much of Connor's long cock as he can. Aiden enthusiastically licks Connor's shaft and head. He even licks Connor's thigh. Connor strokes both their cocks together. "Two big dicks," Aiden says. Connor sucks Aiden again "You're definitely the biggest I ever had," Connor says. He helps Aiden lube up. "I can't wait to get this inside you," Aiden says. Aiden slides into Connor's tight ass. "Holy shit!" Connor says. It takes him a minute and but he pushes down even farther. That's Connor in a nutshell – he never backs down from a challenge! Muscles straining, Connor pushes back and forth against Aiden's body. Aiden asks how it feels, if it hurts – and in the moment, that's one of those things I love about him – he's a truly considerate guy, our gentle giant! Connor pulls Aiden into him deeper. He's taking every inch of that giant dick and loving it. Aiden gets Connor flat on the bed and starts doing pushups into him. "Oh, that's so deep!" Connor yells out. Aiden's body slaps up against Connor's ass as he pounds him. He kisses Connor and resumes fucking him. Both guys are sweating from the intense fucking. They kiss again before Aiden smacks Connor's ass while fucking him. Connor kisses Aiden and lays on his back. Aiden shoves his mammoth cock into him. Connor's dick is rock hard as Aiden drills him. Aiden smacks Connor's chest and leans in to fuck him hard. Connor slaps his cock up against Aiden's abs. Aiden pushes Connor's legs up to dive in even deeper. Connor blasts his load all over his abs as he tells Aiden to keep fucking him. Aiden shoots all over Connor, drenching him in cum! He starts to fall over and Connor catches him. In the shower, they talk about their hot scene. Aiden says he almost blacked out when he came so hard. The guys massage each other and soap up, and discuss a rematch … one where Connor fucks Aiden. Aiden says he knows the fans would like to see that … and he does not like to disappoint the fans!