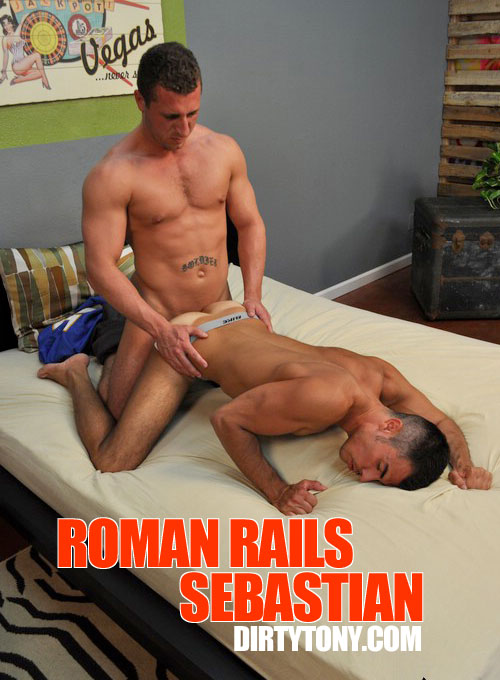 Genre: Anal, Oral, Bareback, Muscle
Wow! Today I am proud to present 2 super hot muscular and tanned studs from the east coast who are here to really put on a great show. Super-buff and notably straight, Roman, is here to give Sebastian's super tight body a workout he won't soon forget. Dominant Roman, talks about fucking women in other countries, his feelings about public sex, and how much he enjoys working in gay porn.
All of this right before sexy quiet Sebastian begins quickly undressing him and kissing his worship-worthy set of pecs, working his way down a perfectly sculpted washboard stomach to a huge bulge in his jeans. Sebastian rips Roman's shorts down and immediately shoves that hard thick circumcised dick all the way into the back of his throat while his hands work the huge shaft and massage his visibly sensitive balls, letting Roman sit back and just enjoy the first-class service. Unable to get any harder from this expert oral treatment, Roman commands that Sebastian get on his knees as he tugs his pants down revealing a jock strap, damp with precum, that Roman grabs the waistband of, pulling Sebastian's muscular ass and perfectly tight hole closer to stretch it out with his girthy cock. Roman confidently slides deeply inside Sebastian's little slice of heaven and begins to pound the hell out of his prostate, while pushing his face into the sweaty bed more and more with each thrust and sheet-grasping moan. Sebastian, overwhelmed with a look of ecstasy, really loves how it feels to get his beautiful manhole annihilated by such a strong straight guy. Roman really gives it to him harder and harder like he would fuck a girl; pulling all the way out and ramming it back in with a force that surely dislodges some of Sebastian's internal organs. It quickly becomes clear that Roman is just going to take what he wants as he molds Sebastian into every position he pleases as he continues to slam his anus with the determination of a dictator. Finally Roman can't take the delicious tightness of this hunk's hole as he rips his cock fresh from the fruit and launches rope after rope of thick gooey cum all over Sebastian's pretty face and inside his hungry open mouth. Not satisfied with the amount of jizz swirling around his tongue, Sebastian diligently tries to suck every last drop of salty goodness out of Roman's slippery fire-hose. God I love to watch straight guys lose themselves to the undeniable pleasure of fucking a tight man-ass!