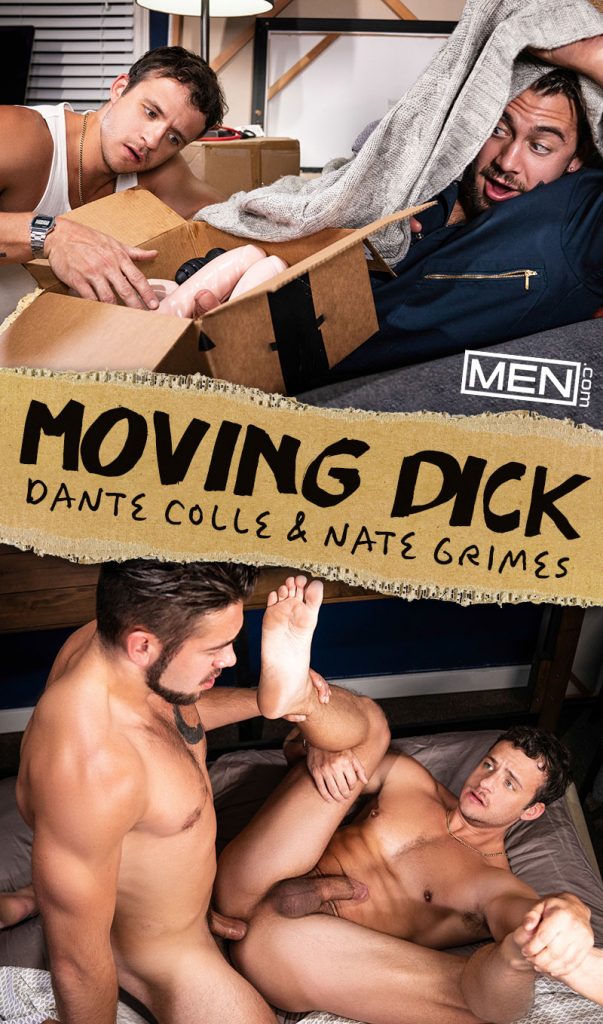 Production year: 2020
Country: USA
Studio: DrillMyHole, MEN
Genre: Oral/Anal Sex, Rimming, Big Cocks, Dildo, Anal Toys, Hairy, Bareback, Masturbation, Cumshots, Tattoos
Duration: 00:26:44
Description: When professional mover Dante Colle spills a box of dildos in customer Nate Grimes's new bedroom, he soon gets very UNprofessional, playing with two thick plastic cocks as if they were nunchucks and sliding the most massive one into his overalls to swing it around.
He tries sucking the biggest toy and can barely fit the head in his mouth! When he hears Nate coming, he sticks his own cock through the bottom of the dildo box and conceals himself. Sure enough, when Nate finds the unfamiliar dick in his box of toys, he starts sucking it, quickly discovering Dante's ruse. Nate sits on Dante's cock before telling the top to fuck him with the massive dildo, and Dante can't believe his eyes as the power bottom's hole swallows the whole thing! That hole is still nice and tight when Dante fucks Nate doggystyle and piledriver, and soon Dante has Nate cumming before finishing off with a hot facial!